Visit

A PIECE OF HAWAIʻI'S HISTORY. A PLACE TO BUILD NEW MEMORIES. 
We are one of Hawaiʻi's must-see destinations. With dining, shopping, entertainment and history, Aloha Tower Marketplace has something for everyone. Check out our directory here or keep reading to learn about the significance of our site.
Home to One of Hawaiʻi's Most Famous Landmarks
Aloha Tower is an iconic symbol of Hawai'i and the most recognized building in the state. More than 18 stories tall, Aloha Tower and its 10th-floor observation deck offer unparalleled views of Honolulu Harbor and the Koʻolau Mountain Range. Aloha Tower's lighthouse served as a navigation landmark that could be seen at sea from 15 miles away with a tower clock that was once one of the largest in the United States.
Central to Nearly a Century of Island History
For nearly 100 years, Aloha Tower has welcomed visitors to O'ahu, from early days when ocean travel was the only way to visit Hawaiʻi to today when all cruise ships to this island arrive near its port. "Steamer Days" or "Boat Days" at Aloha Tower celebrated the arrival of ships into Honolulu Harbor, providing entertainment by the Royal Hawaiian Band, hula dancers and lei makers to arriving passengers and the crowds welcoming them, a tradition that lasted until the arrival of jet planes in the 1950s. The United States Navy controlled Aloha Tower after the attack on Pearl Harbor where it served as the Pacific control center for American military until 1947 when it was returned to the state.
Continuing the Tradition of Welcoming with ALOHA
Today kamaʻāina and visitors alike enjoy Aloha Tower Marketplace. Situated halfway between Honolulu's airport and Waikīkī, our landmark is an easy-to-reach, must-visit destination for aloha and history. Join us for a taste of local style, local flavor and local history. 
Tour Aloha Tower's 10th-floor observation deck daily from 9:00am – 5:00pm free of charge (weather-permitting). 
COVID-19 UPDATE: The observation deck is currently closed.
MARKETPLACE HOURS
Open 8:00am – 10:00pm daily
Tenant hours of operation may vary from
marketplace hours.
PARK AT ALOHA TOWER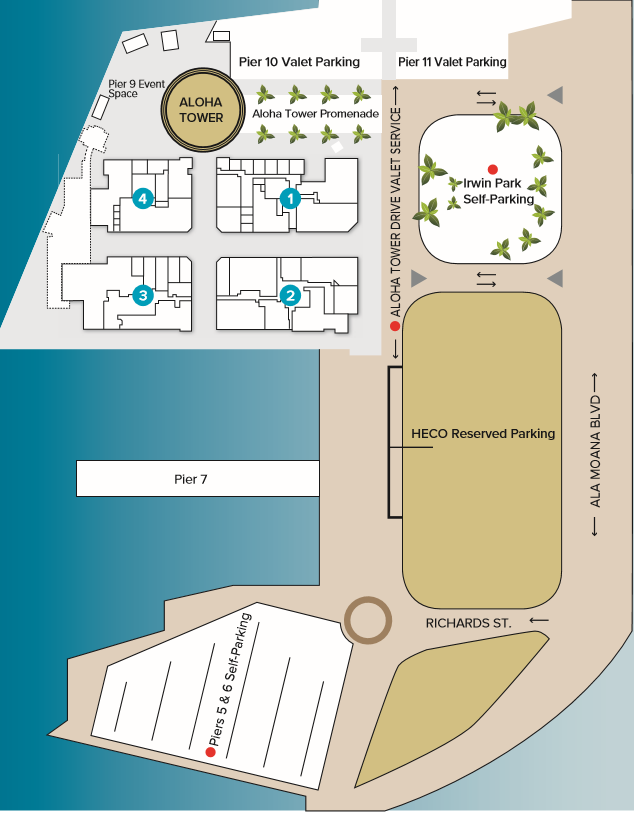 Monthly parking options available. 
Click
here
 or call (808) 544-1458 for more information. 
Self-park with tenant validation: 1st hour free, $2/hour 2nd - 6th hour, thereafter rack rates apply

Self-park with event validation: 1st hour free, $2/hour 2nd - 6th hour OR $10 flat rate for 12 hours, depending on event length, rack rates apply thereafter
Valet park with tenant validation: $4 flat rate up to 3 hours, $20 flat rate beyond 3 hours
Early bird parking available Monday - Friday at Piers 5/6 only for $10 flat rate when in the lot before 8:00am and out by 5:00pm. No validation needed. 
Self-park rack rates without validation: $3 for every 30 minutes, $30 max ticket